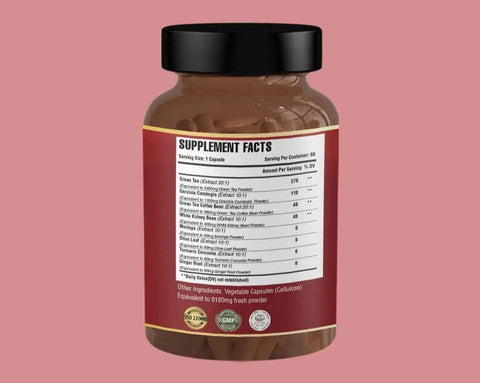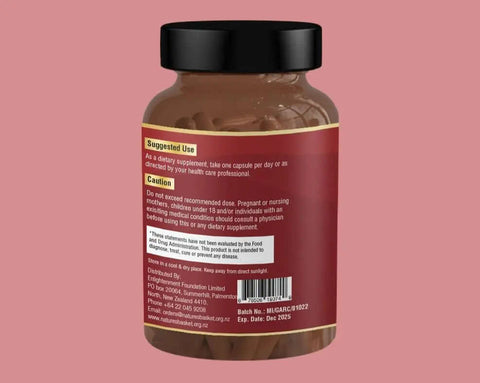 Nature's Basket - NZ
Natural Fat Burner (Garcinia Extract) Capsules - Nature's Basket NZ
SKU: nbgarciniaextcap60
ISBN: 678506190749
Subscribe & Save
Maintain your wellness without the hassle. Every month we'll deliver your supplements, right to your door.
$20.99
$23.00
you save $2.01
Product Description:
Are you tired of trying countless fad diets and exercise routines to lose weight, only to see minimal results? Nature's Basket NZ Garcinia Extract Capsules may be the solution you've been looking for! Our natural fat burner capsules are made with high-quality Garcinia extract, which has been shown to help support healthy weight loss. 
Garcinia extract works by inhibiting an enzyme called citrate lyase, which is responsible for converting carbohydrates into fat. By blocking this enzyme, your body is forced to burn stored fat for energy, which can lead to significant weight loss.
Unlike other weight loss supplements on the market, our Garcinia Extract Capsules are made with all-natural ingredients and contain no harmful additives or fillers. We believe in providing our customers with safe, effective products that they can trust.
Our Garcinia Extract Capsules are also easy to incorporate into your daily routine. Simply take two capsules daily, preferably before meals, to start seeing results. Combine our capsules with a healthy diet and regular exercise for the best results.
Don't let weight loss be a source of stress and frustration in your life. Try Nature's Basket NZ Garcinia Extract Capsules today and take the first step towards a healthier, happier you!
Features:
Premium quality Garcinia Extract
Supports weight loss and fat-burning
Boosts metabolism and energy levels
Suppresses appetite and reduces cravings
Made with natural ingredients
Easy-to-use capsule form
Benefits:
Supports weight loss goals
Enhances metabolism and energy
Suppresses appetite and reduces cravings
Promotes fat-burning and lean muscle development
All-natural and safe to use
Ingredients:
Green tee
Garcinia Cambogia
Green tea coffee bean
White kidney bean
Moringa
Olive leaf
Turmeric Curcumin
Ginger root
Directions for Use:
Take 1 capsule of Nature's Basket NZ Natural Fat Burner (Garcinia Extract) daily, preferably before meals. For best results, combine a healthy diet and a regular exercise routine.
Fat burner
So far no side effects not sure if its working. Yet.
Fat Burner Tablets
It has reduced my appetite and given me more energy but no weight loss yet,
Great
Certainly has reduced my appetite and achieved weightloss
Keeps you from eating
I purchased this a few days ago. I haven't weighed myself because it's too early but I gotta say, it definitely keeps you from eating. I took it in the morning and I went until 6pm not feeling hungry.
Shipping & Delivery
Free Shipping on orders over $50 NZ Wide (non-rural). For orders under $50, a $5.99 urban shipping fee ($9.99 for rural) will be applied at checkout. Shipping Time: 2-3 business days. For deliveries to rural areas, please allow an additional 1-2 days for delivery.
Natural Fat Burner (Garcinia Extract) Capsules - Nature's Basket NZ will be dispatched within 24 hours
How to use
Get the most out of Natural Fat Burner (Garcinia Extract) Capsules - Nature's Basket NZ
Ingredients
Only containing the ingredients that you need
Green tea, Garcinia cambogia, green tea coffee bean, white kidney bean, moringa, olive leaf, turmeric, ginger
Adaptogen : Commonly plants that help your body respond to stress, anxiety, fatigue and overall wellbeing.
Anti-allergic : Prevents or relieves allergies 

Anti-inflammatory : A chemical that reduces inflammation, including swelling, pain & redness in the body. Anti-inflammatory agents block certain substances in the body that cause inflammation.
Anti-oxidant : chemicals that lessen or prevent the effect of free radicals on cells. They reduce the reactivity and prevent disease 
Antibacterial : Effective only against bacteria. 
Antimicrobial : Effective against a wide variety of microbes. Helps to eliminate dangerous bacteria and prevent the spread of infections. 
Antiseptic : Antiseptics are chemicals that kill or slow the growth of germs or micro-organisms (bacteria, fungi and viruses)
Antispasmodic: Remedies used to treat symptoms such as abdominal pain and cramp (spasm). Often used for symptoms of irritable bowel syndrome.
Astringent : a chemical that shrinks or constricts body tissues. The word derives from the Latin adstringere, which means "to bind fast".
Churna :(Sanskrit: चूर्ण "powder") is a mixture of powdered herbs and or minerals used in Ayurvedic medicine. 

Free Radicals : Unstable molecules made by the process of oxidation during normal metabolism. Free radicals can cause "oxidative stress," a process that can trigger cell damage
Hemostatic : Capable of stopping the flow of blood. Hemostasis is a process to prevent and stop bleeding. It is the first stage of wound healing. This involves coagulation, which changes blood from a liquid to a gel. 
On all New Zealand Orders over $50
Our hassle-free return process allows you to submit your request within 5 days of purchase.
Assurance of freshness and quality
With high inventory turn over, we're able to offer you the freshest supplements
We use only well-researched raw materials, unique ingredients, and trusted blends.