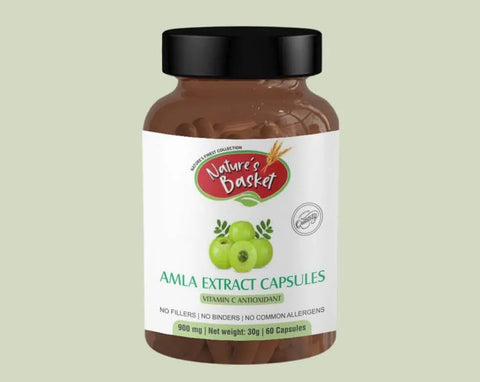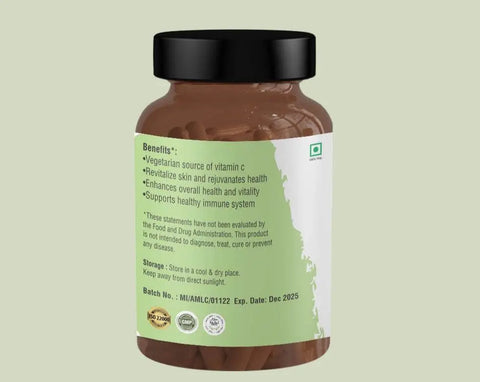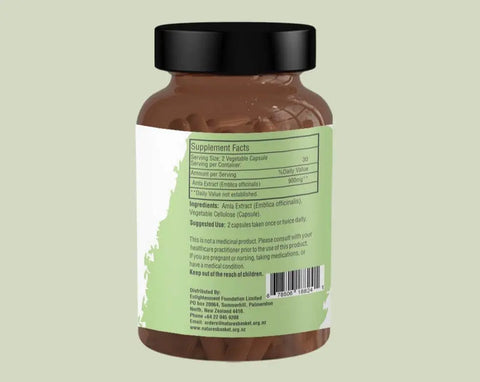 Nature's Basket - NZ
Nature's Basket NZ Amla Extract Capsules 900mg 60pcs
SKU: nbamlaextract60
ISBN: 678506188241
Subscribe & Save
Maintain your wellness without the hassle. Every month we'll deliver your supplements, right to your door.
$17.99
$23.00
you save $5.01
Benefits of Nature's Basket NZ Amla Extract Capsules
Product Overview:
Nature's Basket NZ Amla Extract Capsules contain 900mg of pure Amla fruit extract. Amla, also known as Indian Gooseberry, is a rich source of antioxidants, vitamin C, and other beneficial nutrients that can help boost your immunity and promote healthy digestion.
Benefits:
Boosts immunity naturally
Promotes healthy digestion
Rich in antioxidants and vitamin C
Usage:
Take 1 capsule daily with water, preferably after a meal, or as directed by a healthcare professional.
Safety Information:
Consult your healthcare professional before taking this supplement if you are pregnant, nursing, taking medication, or have a medical condition. Keep out of reach of children.
Ingredients:
Amla Fruit Extract (450mg per capsule), Vegetarian Capsule, 
At Nature's Basket NZ, we believe in providing high-quality products that are good for your health and the environment. Shop now and experience the benefits of Amla Extract Capsules!
👉 If you want to know more about Amla, click here to read our article. 
love Amla pills
I was on prescription medicine with bad side affects, everything i take is natural as possible, so i set out to find something that would work close as.
I was told about Amla, I checked it out and then started using it ,it works well helping with heart ,blood and stomach problems that even my doctor was surprised, so yes,well worth buying. before buying here i was buying from India,quite Expensive to bring in but excellent price and quality at this shop, So have been using for 4 months
Shipping & Delivery
Free Shipping on orders over $50 NZ Wide (non-rural). For orders under $50, a $5.99 urban shipping fee ($9.99 for rural) will be applied at checkout. Shipping Time: 2-3 business days. For deliveries to rural areas, please allow an additional 1-2 days for delivery.
Nature's Basket NZ Amla Extract Capsules 900mg 60pcs will be dispatched within 24 hours
How to use
Get the most out of Nature's Basket NZ Amla Extract Capsules 900mg 60pcs
Two Capsules taken once or twice daily

This is not a medicinal product. Please consult with your healthcare practitioner prior to the use of this product. If you are pregnant or nursing, taking medication, or have a medical condition. Keep out of the reach of children.

Store in a cool & dry place. Keep away from direct sunlight.
Ingredients
Only containing the ingredients that you need
Amla Powder (Emblica officinalis), Vegetable Cellulose (Capsule)
Adaptogen : Commonly plants that help your body respond to stress, anxiety, fatigue and overall wellbeing.
Anti-allergic : Prevents or relieves allergies 

Anti-inflammatory : A chemical that reduces inflammation, including swelling, pain & redness in the body. Anti-inflammatory agents block certain substances in the body that cause inflammation.
Anti-oxidant : chemicals that lessen or prevent the effect of free radicals on cells. They reduce the reactivity and prevent disease 
Antibacterial : Effective only against bacteria. 
Antimicrobial : Effective against a wide variety of microbes. Helps to eliminate dangerous bacteria and prevent the spread of infections. 
Antiseptic : Antiseptics are chemicals that kill or slow the growth of germs or micro-organisms (bacteria, fungi and viruses)
Antispasmodic: Remedies used to treat symptoms such as abdominal pain and cramp (spasm). Often used for symptoms of irritable bowel syndrome.
Astringent : a chemical that shrinks or constricts body tissues. The word derives from the Latin adstringere, which means "to bind fast".
Churna :(Sanskrit: चूर्ण "powder") is a mixture of powdered herbs and or minerals used in Ayurvedic medicine. 

Free Radicals : Unstable molecules made by the process of oxidation during normal metabolism. Free radicals can cause "oxidative stress," a process that can trigger cell damage
Hemostatic : Capable of stopping the flow of blood. Hemostasis is a process to prevent and stop bleeding. It is the first stage of wound healing. This involves coagulation, which changes blood from a liquid to a gel. 
On all New Zealand Orders over $50
Our hassle-free return process allows you to submit your request within 5 days of purchase.
Assurance of freshness and quality
With high inventory turn over, we're able to offer you the freshest supplements
We use only well-researched raw materials, unique ingredients, and trusted blends.